For all of us who play sports replay games, indeed MANY table top games we need dice of course.
I have a large collection of dice as a seperate interest collected over many years, but for use when playing our games there are two things which always come up as issues.
While playing, the rest of the family might not want to hear the dice hit the tabletop, and indeed might not even want to hear the dice rattle in whatever you use to shake the dice if they are not into the hobby, and maybe are just watching TV separately. So read on...
EASY ROLLER DICE, a young company from Ohio USA offered to send me some products to review and having looked at their website I decided I would look at and review the following items which specifically might be of help to our community to address just those issues. Not only that but you can even sit in a chair with a small lap tray and these items and play in the same room as the rest of the family !
First up is their 11.5" Octagon shaped dice tray wrapped with a black leatherette covering and a red velvet liner. VERY elegant to look and the dice roll and stop beautifully in the tray, with very reduced noise levels of dice rolling. I would HIGHLY RECOMMEND this item for your sports or RPG gaming sessions !
.
Secondly is their P/U Leather exterior Dice Cup with a nice black velvet interior which vastly deadens dice rolling noises due this the interior padding. Good to look at and to hold and is a quality item and does indeed lesson noise so again HIGHLY RECOMMENDED - it even comes with five FREE six-sided dice.
The third item that EASY ROLLER DICE supplied me to review is their Polyhedral Dice Sets For Dungeons and Dragons,105 Dice Bulk Set + Free Large Velvet Bag! These are HIGH QUALITY dice, very nice to hold and throw and canot think of a better way to describe than on their own sire as follows:
High Quality Polyhedral Dice –

F

actory-first dice guaranteed to be free of chips, cracks, and major defects
Complete Sets – This bulk set includes 15 complete 7-dice sets (105 total dice) (including a 4, 6, 8, 10, 12, and 20 sided dice, along with a percentile dice)
Great Variety - Dice sets include solid colors, translucent colors, and specialty dice (including swirled and textured dice)
These dice are a pleasure to look at and to roll and will cover pretty much all you will need !! Again HIGHLY RECOMMENDED for our gaming purposes.
I was very pleasantly surprised by the high quality of all the items that EASY ROLLER DICE sent me - go check them out by clicking on their name in this review or the logo at the top - because you will be impressed too !!
Bear in mind that shipping to the UK can result in customs charges and VAT when you receive them here - this is unavoidable, but especially if you live in the USA what are you waiting for ??? Go check them out and place your order !
==============================
If you live in the UK then I suggest you also take a look at THE DICE SHOP ONLINE who can supply a very similar range of products to Easy Roller without the Duty and Import costs.
But if you do order from the USA as above you will definitely receive high quality items for your money from a friendly Company ! :)
==============================
Site design, concept and content all international copyright John Gardiner 2004-16
I am aware that many sports gamers also play wargames and Role Playing Games,
and as sports games are often played solitaire the search for a solitaire RPG might also be made by many. I am not going to run down any RPG system but some are extremely complicated and time consuming and also impossible to play solitaire. Back in the 1980's I enjoyed the Fighting Fantasy Solo Game books, and over the years this has now become the ADVANCED FIGHTING FANTASY 2 game system.
Why I mention this is because in my view it is the easiest RPG to use either in a group OR SOLITAIRE - the only thing you need is your imagination ! And there are many easy rules, books and add-on books so you can use some or all exactly as you wish and the game will still work. Where to get them from ? Go Visit ARION GAMES on the internet and all that is currently available will be there for you to check out. You can contact them directly if any queries and Graham is always very helpful. In addition if Space Games are your forte, STELLAR ADVENTURES will soon be added to the range having successfully completed Kickstarter funding just recently..
How to play solitaire ? Very easy, create your heroes from the rules, create the world and the map, and set off on your adventure using random encounter tables and other random tables to move it along with your imagination doing the rest. Make your own adventure movie in your head.
So the game rules above will cover the majority, all you need are the world and its maps, and here I will list some excellent options for you for World and Map Generation that I have come across over the years, simple and ideal for this very purpose !
Pride of place here goes to HEXOGRAPHER which was built from the ground up to let you make maps in a few specific styles quickly. By eliminating a large number of cumbersome options general image editors & computer-aided-design programs use, Hexographer lets you make a map in a tenth of the time it takes just to learn another tool. And check out the sister applications Dungeonographer (for dungeon and building interior maps) and Cityographer (for city maps and auto-populating the buildings with residents, price lists, and more)!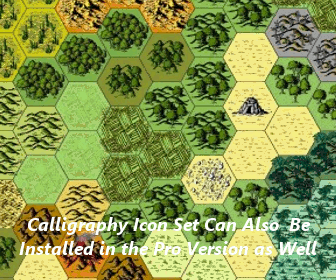 The real beauty of this is you can get your Map and RPG World randomly generated and by rolling on encounter tables etc from AFF you actually adventure in the world with your characters and monsters from Advanced Fighting Fantasy, not knowing what's coming up yourself !! You truly adventure with your own imagination.
While talking about this excellent Map generator it is soon to have a MAMMOTH upgrade to allow the use of World, Continent, Region etc all as child maps created from the one above !! This is called WORLDOGRAPHER - HEXOGRAPHER 2 and the current Kickstarter project is at this link. Go have a look and maybe make a pledge yourself until mid September 2016.when it ends ? Its already well funded.
==============================
A second mapping system I can highly recommend although this needs you to easily draw yourself and not randomly generate like Hexographer is OTHER WORLD MAPPER Design Software
Other World Mapper allows RPG gamers, authors and developers to create detailed fantasy maps quickly using an intuitive GUI and specialized tools. Funded through Kickstarter in late 2014 Other World Mapper is currently in beta with a release planned for 2016. The current beta release is Beta 5 and it includes most of the final artwork, as well as a big percentage of the planned functionality. They've opened beta buy-in for those who missed the Kickstarter campaign and what to participate in the beta! Beta buy in info.. Go check it out - maybe use in conjunction with Hexographer / Worldographer if you so with for more detailed maps of certain areas
==============================
There are other mapping programs available but these are low cost and quick and easy to use so are highly recommended by me for the purposes outlined.
That's all for now but you will see how the two columns and topics of the new page blend nicely together - I hope to add more to it in time but for now hope they help YOU !!
==============================