On FACEBOOK as "John Sportsreplays" if you want to be informed
Voluntary donations gratefully accepted to help keep the download pages running. Site now contains over 1.6GB of download data for your pleasure.
LA GRANDE BOUCLE
(Phil Riviere, version 4 Downey Games, USA, 2008 / version 5, free download, 2011)
I have added this item and these links as the game itself is "buried" out in the Internet and will not be found by many, and was influenced by an add on file being sent to me to host by Chris. So decided to host the game, and ANY files that replayer's like to send to me in the future, so the whole game is findable and available in one place. Patrick has kindly sent me the Dauphine 2004 excel version so I think this page is currently complete with all available versions !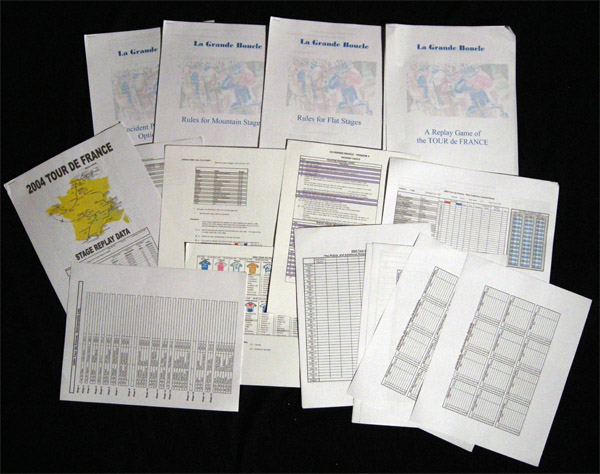 A replay game from Philippe Riviere. This game (version 4) used to be available from Downey Games (not free), but has been updated and version 5 is a free download (scroll down for the link).

The new version of the game includes the riders of the 1991 and 2010 editions of the Tour. The rules have not changed that much from version 4, but now they are friendlier, and they offer many optional rules following feedback players of the previous versions.

According to Philippe Riviere himself: "With the 2010 edition, you can if you wish replay the Intermediate Sprints and the Minor Climbs of 3rd and 4th Categories. You can also, if you wish, introduce Crosswind rules on certain stages and give the stage a whole new dynamic when the wind blows. You can also run Stage 3 between Wanze and Arenberg like a mini Paris - Roubaix and experience the devastating effect of cobbles sections on the peloton, or you can just run a less involved replay and still have interesting stages. With the aim of saving time on replays, by avoiding looking for riders cards amongst the 198 available, Specialist (Climbers, Sprinters and Time Trial experts) have duplicate cards within a specific set. Here too, this is an option for those who wish to use it."


2004 rider cards from version 4:
(Thanks to www.cyclingboardgames.net for the above info on the game)
VERSION 5 Le Grand Boucle Game 26.9.2013
(INCLUDES 2010 and 1991 Tours)
Frosty67's 2014 Le Tour for Le Grand Boucle 30.8.2014
Feedback to here for this addition
Chris's 2013 Dauphine Set for Le Grand Boucle 26.9.2013
Thanks to Patrick Cunningham, Phil Riviere and Patrice Corouge for making these available
Automated Tour de France 2003 (excel) 2.4.2015
Automated Tour de France 2004 (excel) 2.4.2015
Automated Dauphine Libere 2004 (excel) 28.4.2015